You too, can make fascinating Acrostic puzzles!
Acrostic 3.0
The finest Acrostic puzzle maker on the planet!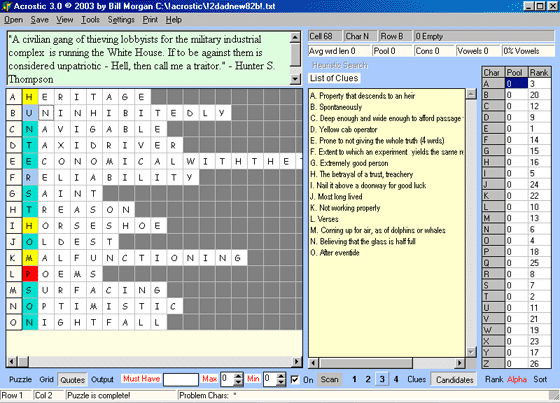 All your important puzzle data is always visible!
Watch your vowel count, vowel percent, letters remaining, letter distribution
Brute force search for the final three words in the puzzle!!

Acrostic 3 is an acrostic constructor's dream. There are many new features:

Heuristic search to find fit for final 3 words

Alpha, Rank and Number sort for character pool

Quick Hot-Keys for main program operations

Customizable Printing of puzzles

Choose your own fonts, fontsizes, style!

Conditions engine: Easily set conditions on dictionary searches!

Print puzzle grid, clues, or both

Can make very large full page puzzles!

Prints instructions on puzzle if you choose

All files used by program are OPEN text format, easily emailed, or can be used by other programmers

Comes with Dictionary!

Makes "legal" puzzles

Letter distribution tool for "balancing" word mapping

Makes Bitmap of puzzle grid!

Comes with these tools for a complete Puzzle Making Suite:

Word List Manager
Build your own topical word lists
Text File Manager
Keep track of text files
Solver Program
Send puzzles & solver to a friend!
Puzzle File Report program
Keep track of all the puzzles you make!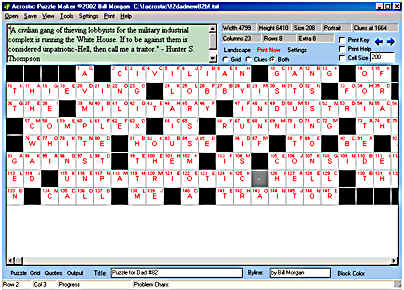 Puzzle Grid maker lets you format your puzzle, set the fonts, print puzzle
and NEW Solver 3!
Some Free Puzzles are Here

Beta-testers Click Here!
Also Free! : List Manager Program