This program will be of use to current beta-testers. It is especially useful when you begin to have about 30 or more puzzles to keep track of.
I wrote this puzzle file utility program to help me keep track of the puzzles I have created, and let me know what work remained to be done on them. Once I got above 100 finished and half-finished puzzles I had a hard time remembering which puzzle was which!
The Cullquotes.exe program will look at your puzzle files and pull out the information to make a report which you can refer to as to which file has which quote and how finished it is.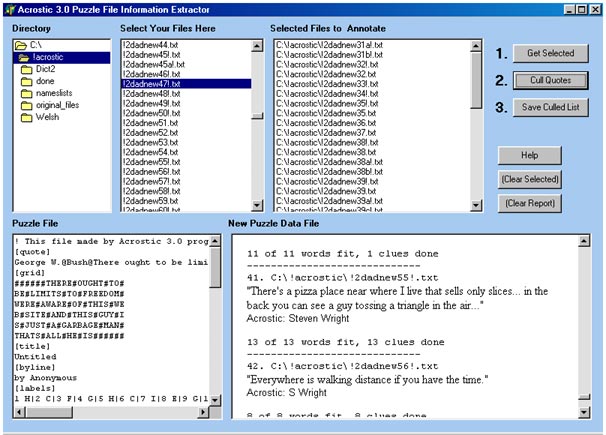 Just select the puzzle files you want to include and hit "Cull Quotes" to make a report of all your puzzle files. You can make two kinds of reports:
1. Simple Report list filename, Quote, Acrostic text, and how many words are fitted and how many clues are written. Then when you want to work on your puzzles you will instantly see which ones are unfinished and to what degree.
2. Data Report is the same in a line-delimited format suitable for "sucking" into a database program, like MS Access. Let us hope that all we puzzlers and constructors have an increasing need for this program!
Download the program here. SAVE IT TO THE DIRECTORY WHERE ACROSTIC 3.0 RESIDES!